Weddings, Receptions and Rehearsal Dinners
Our Story
Since 1987 we've been exciting audiences at wedding receptions and other private functions. Our versatility, professionalism and charm have won over audiences, families and wedding parties wherever our band performs. From destination weddings in Lake Tahoe NV, Park Cities UT, the wine country in California, Puerto Rico and Mexico to our home base in Texas, my band and I guarantee an unforgettable night of music and dancing. From classic crooners of the 50's, rock and roll from the 60's, classic rock from the 70's, artists from the 80's and 90's, current hits to country to Motown we play it all. And we always welcome special song requests too. We promise a unique and personal touch to your reception. You can view our current Song List to get a glimpse of our expansive music library.
Check out our stellar reviews on The Knot and GigSalad! Here's one of my recent favorites…
Reviewed On 4/30/2019 by Abbey B
My husband and I recently got married at Springs McKinney Stone Hall. We had originally seen Brad and his band at a friends' wedding the year before. We couldn't get over how entertaining and talented they were. So, when we got engaged I obviously had to contact Brad to see if they were available. From the beginning, he was super responsive and helpful. I had about a million questions for him over a 4 month period and he never hesitated to answer in detail. Fast forward to the big day and Brad and his guys made the reception one to remember. Pretty much all of my guests commented on how great the band was over anything else. My family also had a couple weird requests during the reception and they totally just went with the flow. They also did a special private song for us right before our exit that was so special. They had been playing for hours at that point and it was still amazing…I would say it was my favorite part of the night. I promise you will be so happy with these guys on your big day!
Wedding Reception
Local and destination weddings. Multiple Configurations available.
Brad solo
Brad and his guitar "Barbara" + DJ, sound system and basic stage lighting.
Five Piece Band
Drums, bass, guitar, keyboard, singer + DJ, sound system and basic stage lighting.
Seven Piece Band
Drums, bass, guitar, keyboard, singer + DJ, sound system, basic stage lighting plus an added horn section (2 horn players)
Nine Piece Band
Drums, bass, guitar, keyboard, singer + DJ, sound system, basic stage lighting, a larger horn section (3 horn players) and female singer.
Cocktail Hour

Often times you're not ready to have the band start up during the cocktail hour or it is in a separate location than the reception so some pre-recorded music is ideal. The cocktail hour music could be as easy as a small sound system placed in the cocktail location with a playlist that you created from Spotify, iTunes or other music service, or I can create a custom playlist just for you. I'm also available to play a live, solo set for your cocktail hour.
Ceremony
In addition to the reception, I can offer live or pre-recorded music for your ceremony. Whether it's instrumental guitar or you want me to sing a special song as you walk down the aisle, I have a large list of wedding songs to choose from or I can learn a special request for you. I can also provide a microphone for your officiant if needed.
Rehearsal Dinner
I am also available as a solo act for your rehearsal dinner. I can provide DJ or live dance music if you're looking for more of a party atmosphere or I can keep it more laid back with a classic, dinner kind of vibe. I can provide a microphone for speeches and if you're planning on sharing a video of the couple for your guests I can provide a sound system for any special music or playlist you may have.
DJ or live band? We do both
Often times families are torn between hiring a DJ or a live band for their wedding reception. While most wedding bands are very versatile, DJ's have a clear advantage as they have access to all types of recorded music and their playlist can run the gamut of classic jazz standards to the latest hip hop. And while a DJ can be an exciting element for a reception, nothing is as engaging and impressive as a live band when it's time to pack the dance floor. That's why we offer both for the wedding receptions we play. When it's time for the band to take a break, I step behind my computer and fire up a custom mix of songs for your guests. Line dances, hip hop, extended dances mixes, old classics or special requests, we can provide all of it – and you get an evening of non-stop music.
Songlist
Check out our massive Song List here. Jazz Standards, Motown, country, love songs, rock, new stuff, dance, pop, it's all there and we're constantly updating the list with new material all the time.
Special Touches
Additional lighting
Programmable, moving lights & lighted screens for a more intense stage show. Two additional 20 amp circuits required, 3 ft clearance behind stage for lighting trusses. 10 ft high and 24 ft across.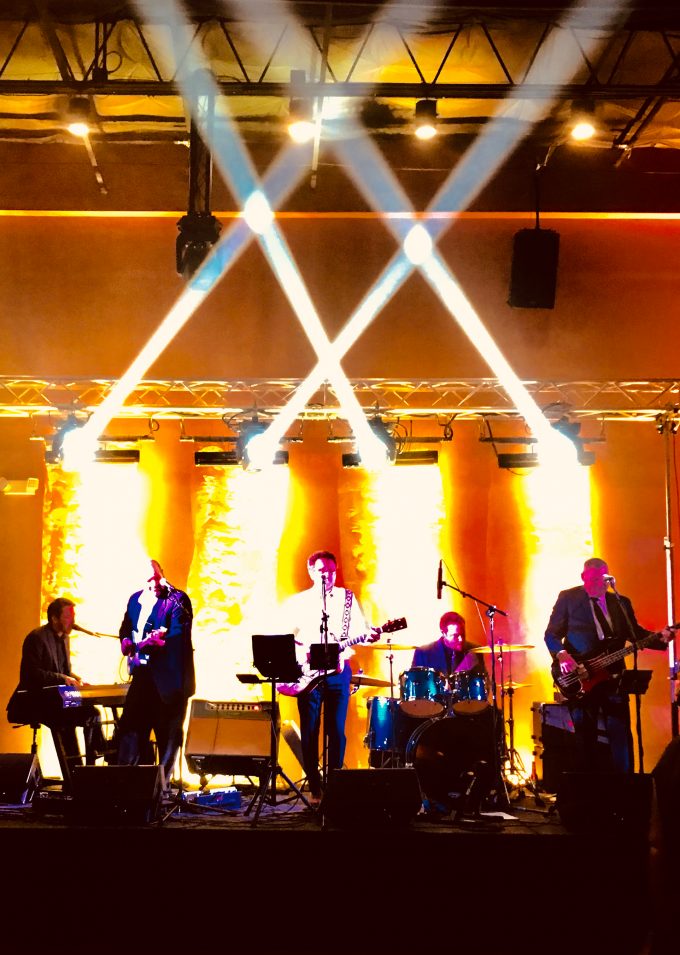 Uplighting for reception area
Wireless, individual, programmable, synchronized uplighting to enhance the entire reception and/or cocktail area.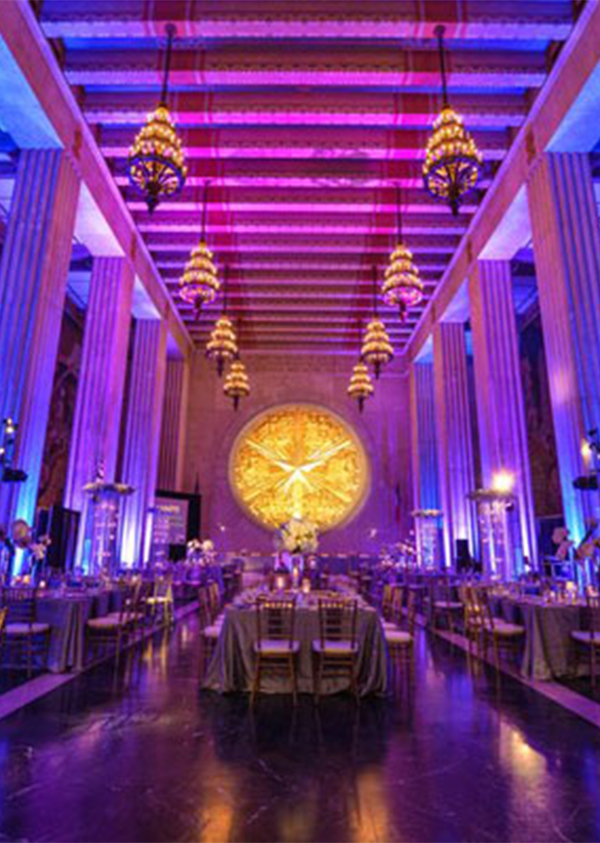 Gobo projector
For a personalized image or design. Typically it would be the couple's names or a monogram shown on the dance floor or a wall.